This week has been INSANE (and by insane I mean probably one of the best weeks of my life). Not only has school been going pretty well (3 classes anyone?), but a huge thing happened to me on Wednesday. But first, Let's start with Monday.
My bed broke.
Right? How do you break a bed? Well, I know what you're all thinking. No, I was not jumping on it ( ;) ). I literally sat down on the bed and it fell through the frame. Skinny little 120 lb me... broke a bed... by sitting on it.
This meant sleeping on the couch all the way until Friday, when it finally got fixed (not because they took that long to come over and fix it, but because I was too lazy to tell them it broke because it meant I had to clean my room).
Tuesday was a lot of fun. I woke up with a killer cold and then proceeded to spend 4 hours snowboarding. While this was SO much freaking fun, it did result in me missing two days of work because it resulted in a 101 degree fever. Fun, right? (Actually, yes. Lot's of fun).
(Quick, everybody say 'aww'. Awwww.)
This brings us to Wednesday morning with me, lying on the couch in a sick, NyQuil induced daze, staring at the door where Sarah (my roommate) and some UPS guy stand.
"Package for Bailey Gleason?"
I was super confused by this because I hadn't been expecting any packages (plus I was under a heavy dose of NyQuil which makes everything confusing). I signed for it and received a decent sized envelop- something that's used to send important papers. At first, I thought my mom had sent me my birth certificate or something (because that's what moms do, ya know?). I open the envelope to find a bunch of really official looking manilla papers. I started to get nervous thinking I was in trouble for something, but instead, this is what I read:
"Dear Entrant:
As the organization administering the "Win What You Want" Sweepstakes sponsored by United Parcel Services General Services Co., we are please to announce that you have been selected as a potential Grand Prize winner."
Uhm, wut?
Turns out when I signed up for 'My Choice' on the UPS website to track a package full of online purchases I really didn't need to be spending money on, I also entered myself into a Nationwide sweepstakes in which the winners (2 Grand Prize, 3 First place, & 20 Second Place) could choose trips from their respected prize tiers.
I looked at my list o' prizes and saw this:
4 tickets to the NCAA Men's Basketball 'Final Four'.
2 Tickets to any PGA European Tour Event (In either Spain, Hong Kong, Singapore, England, Portugal, etc.)
Various Football game tickets (including the Ohio State vs. Michigan game)
NASCAR tickets
Various SEC college sporting events tickets (swimming, track, etc.)
4 Tickets to any Live Nation sponsored concert in the US
Oh, plus $2000 in spending money.
At first, I didn't even know what to think. It said I was a 'potential Grand Prize winner'. What does that mean? What did I have to do now? And was this even real?
I called the number for the company in charge of the sweepstakes and left a message to talk with the person who could answer all my questions.
When she called back the next day, I was out shopping with Carrie for decorations for the ward dance we were planning on Friday. Immediately, I barraged her with my concerns. I had been under the impression that since I was a 'potential' winner, the 25 people who had been chosen would be entered into a drawing and then designated a prize tier from there.
Instead, this is how our conversation went:
'Now that I've been chosen, what do I do? Do I mark what I want is I win Grand, First or Second Prize?'
'There aren't going to be any more drawings.'
'There aren't?'
'No, sweetie. What's your name?'
'Bailey Gleason.'
[pause]
'Honey, you're one of our grand prize winners. You just won yourself one heck of a trip.'
'....what.'
This means that, as long as I'm eligible (18 or older, US citizen, valid e-mail address, not associated with either sweepstakes party), I'll be going to the event of my choice with the air fair, ground transportation, hotel and event entrance paid for with however many guests the event allows, plus $2000 spending money.
All that was left was to pick a trip and who the extra ticket(s) went to. This was a lot easier than most would think.
For those of you who know my family, you know my dad is a big golf fan. Like, huge. I remember when I was little he use to take my brother and I to the PGA games in West Palm Beach. We LOVED them, even though golf is kind of boring, because it meant spending the day with Daddy (and I think we even missed school a few times). Attending a PGA Open is on his bucket list.
You would also know that my Dad served a full-time mission for the Church of Jesus Christ of Latter-Day Saints in Argentina, so he speaks fluent spanish. Something you may not have known (heck, I didn't even know it), is that my dad really wanted to serve his mission in Spain. You know what that means?
That's right. In May of this year, my dad and I (and hopefully my mom, on our own expense, of course) will be attending the PGA Open de Espana for 5 nights, with our air travel, hotel, and ground transportation paid for, along with $2000 spending money (1,500 euros).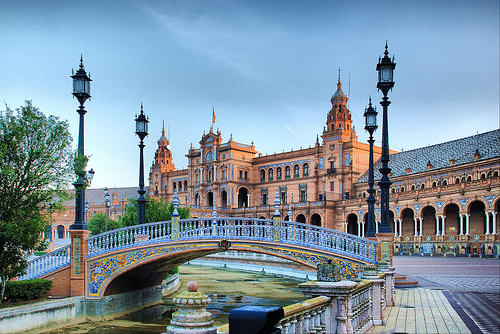 Seville, Spain, here I come.